About SAFAS
Imagine the possibilities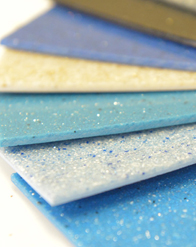 Safas Corporation was founded in 1990 by the late Akbar Ghahary, Ph.D. who had over fifty years' experience in the polymer and chemical industries. Safas at its core an innovation and technology company, manufacturing and marketing products mostly invented by Dr. Ghahary.

Safas manufactures and markets all of its products, from its 100,000 sq. ft. facility in Clifton, New Jersey USA. All of our products are PROUDLY MADE IN THE USA.

Our core business is to provide the fiberglass and cast polymer industries with granite-looking materials to make products such as kitchen and bath counter tops, sinks, shower pans, furniture, bath tubs for industries such as marine, aeronautics, recreational vehicles, kitchen and bath, etc. in either the post-mold or in-mold applications. In 2012 we started marketing Beaushield, a thin acrylic solid surface sheet available in various marble, granite and solid colors, in addition to textured finishes.